Cathlab History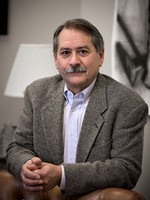 VGH Cath Lab History, by Dr. Donald Ricci
Catheterization procedures (angiograms) began at VGH in 1969. Angiograms were introduced to VGH by Dr. Max Walters who was soon joined by Dr. Mel Shaw and Dr. Mike Moscovich. The original catheterization lab included pediatric cardiologists until 1982 when they moved to BC Children's Hospital.
Until the mid-1970's, a large number of the cases were done to evaluate hemodynamics in cases of valve disease and congenital heart disease. The cath lab saw a significant increase in coronary angiography in the late 1970's when the landmark CASS Study showed the benefit of heart bypass surgery. At last, there was a proven treatment for some patients with blockages diagnosed on an angiogram. VGH added Quantitative Ventriculography (assessment of ventricular anatomy and function) and Cardiac Biopsy were established when Dr. Donald Ricci arrived in 1978.
In 1983, Dr. Mike Moscovich arranged a large fund-raising dinner in the honor of Joe Cohen, a notable Vancouver entrepreneur and philanthropist who was also his good friend and patient. This dinner raised sufficient funds to purchase new General Electric cath lab equipment. Joe Cohen gave a large donation, and the cath lab on the ground floor of the Centennial Pavilion was named after him. In 1988,the cath lab moved to its current location on the ground floor or the Jim Pattison Pavilion..
The first balloon angioplasty was done in the VGH cath lab in October 1980, and the first stent to keep an artery open was implanted at VGH (a Palmaz Schatz Stent) in 1991. Other coronary devices were evaluated (and most discarded) over the subsequent years: for example, perfusion balloons and directional atherectomy devices. The next major shift in practice happened between 2003 and 2007 when drug eluting stents slowly replaced bare metal stents. Drug eluting stents, together with modern antiplatelet medications, dramatically improved patient outcomes and cut the rates of in-stent restenosis. We are now in the era of structural heart procedures, with routine Trans-catheter Aortic Valve Implantations (TAVI) and Left Atrial Appendage (LAA) closures performed in the cath lab. As well, we  now have a full Electrophysiology (EP) lab, with complex mapping and ablation equipment and a new group of EP physicians.
Physicians who have practiced adult cardiology in our cath lab, more or less in date order:
Dr. Max Walters
Dr. Al Cox
Dr. John Osborne
Dr. Mike Moscovich
Dr. Mel Shaw
Dr. Keir Maybee
Dr. Patrick Kinahan
Dr. Don Ricci
Dr. Victor Huckell
Dr. David Hu
Dr. Anthony Fung
Dr. Chris Buller
Dr. Ian Penn
Dr. John Mancini
Dr. Jaap Hamburger
Dr. Sam Doe
Dr. Jacqueline Saw
Dr. David Wood
Dr. Nathan Bruner